Some golfer, Michael Bradley, whom I've never even heard of, apparently chucked his driver into the water when teeing off at the 7th tee at The Players Championship. "I just hit a poor drive and kind of dropped the club, because I was so disgusted. I didn't really realize how close I was to the water. When I dropped the club, it kind of bounded and I'm watching it and I'm going, 'Oh, crap, what did I do?'" Bradley said. "I was like, 'Oh my God, what did you just do?' But I had a nice gentleman get down there and we helped him out and he got it." Random spectator to the rescue.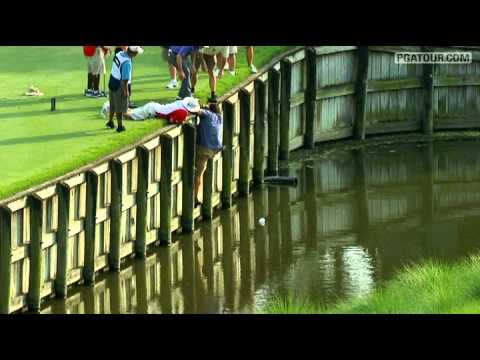 This guy is awesome. His name is Norman-Gerard Merizzi. "I better be on ESPN." Even better, bro, you're on LobShots. Love this guy. Seize the day, dude, seize the day.
The commentators on the other hand…  "Maybe it's an alligator disguised as a driver", "This guy doesn't look like he's in Cirque du Soleil, does he?" and "How ingenious is this?!" They should have all speaking privileges revoked for life. Wondering about the driver that got chucked in? A TaylorMade R11. Sound familiar? Yeah, there's an 80 foot version of it at Petco Park. Oh, and the reward the dude got for getting the driver? A signed glove. A signed glove?! Did you slap him in the face with before you gave to him? What a crock. Give him a club or something, Michael Bradley, you clown. A signed glove? I hope our boy Norman-Gerard Merizzi wipes his ass with it and mails it back to you. Time for TaylorMade to step it up and send this dude a driver of his own… he earned it. Norman, you can thank me later.
-bp