Our friends over at Larry Brown Sports posted a few picture this morning of San Diego's newest savior, Anthony Rizzo, suggesting he was stealing signs from the catcher while at the plate. Well, I watched that Thursday game on TV, and I certainly didn't notice anything fishy, and honestly, Rizzo's four at bats that game were the closest I have watched any at-bats this season. I wanted to see Rizzo, his mannerisms, his poise at the plate, his patience, his stance, his bat grip, his power swing, his everything. So, when I saw this post, I immediately thought it was rubbish. And to give Larry Brown some credit, I dig his site, and he left the post pretty open ended suggesting that "he seemed to peek back for signs" and "I'm not sure what was going on there…" When I see words like "seemed" and "not sure", I take everything else with a bucket of salt. So, although, the accusations were thrown out there, they weren't thrown with much conviction.
As I look at these pictures, I just don't see it. I could have titled this blog, "Anthony Rizzo blinks!" or "Anthony Rizzo glanced at third baseman during while batting" or "Anthony Rizzo checks signs from 3B coach Hoffman" or "Anthony Rizzo has a twitch." I'm sure that will open up the floodgates for a barrage of "homer" comments, but hear me out. Despite what some San Diegans caught up in Rizzomania believe, he is not an actual superhero, just a regular dude…that can hit the ball a country mile. If the pictures of Rizzo are him stealing signs from the catcher… then I'm wrong… he is a superhero. His super power is to make an obscure split-second sideways glance with his eyeballs, without ever moving his head, and registering the catchers sign that is flicking down between his legs in rapid succession, then take that information, and use it in the next split second for the ensuing pitch. I'm not saying that sign stealing never happens in baseball, I know it does, but this kid, on this stage? For those of you that have no clue what I'm talking about, here's a little 2 minute video from my favorite "F*CK FACE", Billy Ripken.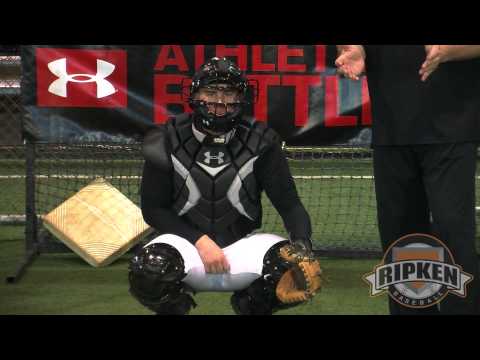 Seriously, these Rizzo pictures just look like a nervous kid trying to keep his composure together for his first Major League ABs. I mean, if he is stealing signs, which I will say… is possible… he has the biggest friggin' cajones ever. Playing in the bigs for the first time, and immediately breaking one of baseball's unspoken rules, knowing the intense scrutiny he's under being the centerpiece to the Adrian Gonzalez to the Red Sox trade? Again, I just don't buy it.
Well, we may never know the answer for sure, but I can assure you this… since I know that young Anthony is an avid fan of LobShots, he's read this (what up, Rizz), and if he was stealing signs, he won't ever do it again…lest he wanted to get plunked.
-bp