Just a massive Man Crush and Feel Good Freshness post rolled into one. Here's a direct quote from a LobShots post on Bubba Watson a few months ago after he bought the General Lee from Dukes of Hazzard: "Man Crush can't even begin to describe my new feeling toward Bubba." I'm so glad he won the Masters I can barely contain myself. The way the Bubba broke down crying after he won. I still want to cry with him. I love this guy. There are a billion reasons why, too. A billion. I know that all you lobsters don't have the same faith as me… Bubba does. We're both Christians. And, regardless of your beliefs, if you have any, you have to love the fact that a guy whose twitter profile reads: "Bio: Christian. Husband. Daddy. Pro Golfer. Owner of General Lee 1" went out and won the Masters on Easter. First tweet after the win? "To God Be The Glory! #Masters" As for non-believers, from what I've heard, he doesn't rub anybody the wrong way like Tebow has done in the past. He just goes about his business, loving God, loving his family (he's got a new baby) and being awesome at golf. First tweet this morning? "Up early can't sleep, don't want to miss any part of being a dad & going to get a new cell phone number! It's crazy how people get ur number." Don't want to miss any part of being a dad. How do you not love this man? Here's one of the many reasons why, which we posted a while back.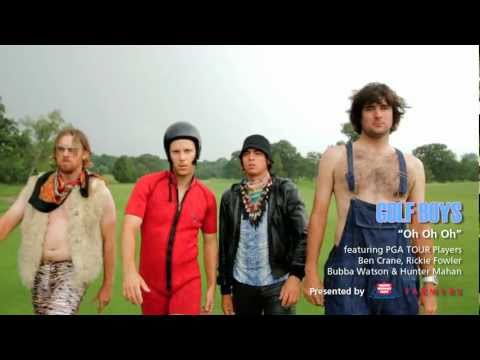 Love this video. Love this song. Can't get enough. Love that a dude wearing nothing but capri overalls with no undershirt, just won the Masters.
Here the insane hook shot he made that pretty clinched his playoff victory.
Here's a visual approximation via TBL to help you wrap your head around that.
Then, of course, there was that awkward attempt a handshake between Bubba Watson and Billy Payne. Notice the extended face scratch by Payne. Pretty awesome.
Just when I think I couldn't love him any more… now he's going through and thanking all the joe-schmo-nobodys on twitter for telling him congrats. He's got over 440,000 followers now that he won, so it might take awhile. It looks like this:
Can't wait for Bubba's shot from the drive-thru window of a Krispy Kreme… rocking the green jacket, riding the General Lee… life is good.
-bp