Meet Brendan Walsh… the Padres fan that, for one night, was the hero of Petco Park with his 'Call Me Maybin' tank top. So heroic that I decided to track him down. Here's how his tale unfolds. 
Q: Fantastic idea for the shirt, how'd you come up with it?
Brendan: It was actually pretty organic, I just thought of it after hearing the song. So I texted my friend on the Pad Squad, Elizabeth Bradford, and I guess about a month ago she was singing the song and inserted the "Call Me Maybin" lyric while at a game too. Great minds think alike. Then, I got this idea that I would make a tank top with the Call Me Maybin lyric and that picture of Cam pointing at the camera because I had seen the picture before and it's pretty much perfect for the occasion. So I went and had it made.
Q: So, how did the best day of your Padre fandom play out?
Brendan: I headed to the game with some friends from Phoenix and my buddy Austin [seen up top next to Brendan in the  throwback 1984 Padres jersey.] I'm not going to lie, I felt pretty clever. I got on the jumbotron thanks to Pad Squad gals Elizabeth Bradford and Jacquelyn Davis, who pushed to get me on the Taco contest. [If you've never been to a Padres home game, they have a contest: a fan picks picks from one of three hats. Pick one of two rubber chickens and you lose or free tacos for the entire stadium if you don't grab a chicken] I promised not to embarrass the girls and they promised to try to get me on. I was feeling pretty creative when I got the call to come up in the 4th inning, so I decided that I was going to do a play on words with the song. I asked Pad Squad gal Jenna to say "so what's your name?" instead of introducing me.
Q: So you got them to alter their normal routine for the contest? Impressive.
Brendan: Yeah, I had to so I could respond with this little number: "I'm Brendan, and hey, I just met you, and this is craaazy, (turn around and point to jersey name and number on the back of my tank) so here's my number, **double pistol camera** so Call Me Maybin!"
Q: Gold. I assume that's when you were immediately propelled into a life of super stardom?
Brendan: Big time. I sang the last two lines of the song and actually have a few offers from the likes of Simon Cowell and the producers of The Voice to wear the tanktop on the show and sing the song.  I'd like to think that they want me for my voice and not my tanktop, but it wouldn't be the first time I was invited somewhere for my awesome sense of style instead of my glowing personality…
Q: You don't have offers from anyone. Stop that. So did you win the tacos?
Well, that's where it all went wrong. I've got a stadium full of Padres fans expecting to get some free Jack in the Box tacos after the game, so I picked and they pull out… a rubber chicken. I had established beforehand that even if I lost the chicken would be mine to "take home" or "put on my desk."
Q: Is that right? It would just be yours?
Yeah. So with 75,000 plus…I'm rounding up… Padres fans booing me for not getting them a "free" dinner, I had to do something to get the crowd back in my favor. That's when I decided to do something drastic, something that has become known in the Twitter world as "The Toss", giving it a moniker in the same stratosphere as "The Catch" by Willie Mays and "The Shot Heard Round the World" by Bobby Thompson. I took that chicken and I reared back and fired, aiming for a good looking gal in the front row of the Toyota Terrace.
Q: I appreciate your knowledge of baseball's past, but stop referencing the Giants. So, "The Toss" — you seriously chucked the rubber chicken into the crowd?
I had to. I played RF in college and still had a few bullets left in my arm. The chicken landed safely in the outstretched arms of someone 50 rows up and I got a good laugh from the crowd. Ultimately it was a cathartic experience and I'll never forget my 15 seconds of fame.
Q: Well, now that you're on LobShots… that'll get extended to at least 16 seconds. 
I consider myself blessed.
———-
You're damn right, you're blessed. There ya have it, lobsters. The heroic tale of Brendan, Call Me Maybin, and "The Toss". I honestly didn't believe that he took that chicken and chucked into the crowd, but sure enough, he sent me a video of it all going down. Pretty funny stuff.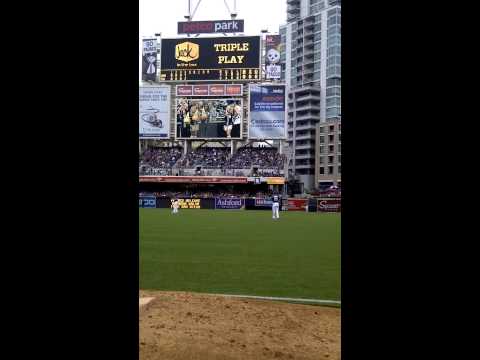 When your team sucks as bad as the Padres do… these are the type of blogs that can still put a smile on your face. Decent toss by Brendan too… turns out his bro Colin Walsh is playing in A ball for the St Louis Cardinals and leads the Midwest league in pretty much every offensive category and was recently named Cardinals Minor League Player of the Month. Not too shabby. The Walsh's, an athletic bunch… just like Brandon and Brenda.
If you were wondering, yes… Cam Maybin is well aware of his name being associated with the viral jam… that's right…JAM… Call Me Maybe. From the MLB Fan Cave:
Thanks Brendan, @bwalsh20, for the interview and the pics. Poor kid's only got 58 twitter followers after a performance like that? Go help him out… it's embarrassing.
One final thought… I love the phrase so much that I don't care…but I kinda think it might actually mean something to our boy Cam if it, you know, came from a girl. Sure enough, Body and Caster just snapped this photo at Petco and sent it to me. I think there might be an actual phone number at the bottom there… tough to make out. Either way… amazing. Love that it's catching on…
-bp