Yup. Arian Foster, who led the NFL in rushing (prior to Adrian Peterson's TNF performance), tweeted that Mission Bay High School
will retire his No. 2 jersey today. A lot of San Diegans forget that he even went to MBHS. I can't find anything from the local media about the ceremony. He's the 2nd leading rusher in the NFL and he's here to have his jersey retired and nobody cares? That makes no sense to me.
I had to call the school myself to find out when the ceremony would take place. It will take place at half-time during the Point Loma at MBHS varsity football game which starts at 3pm. When I asked about any details for the ceremony, the school rep that I spoke to replied, "I have no idea, I just heard about it yesterday." Awesome.
As a senior in 2003, Arian had 6 kickoff returns for scores, and rushed for 2,093 yards and 24 touchdowns. Yup. 30 TDs. There's no sound and they're rather underwhelming, but here are some highlights from his Mission Bay days…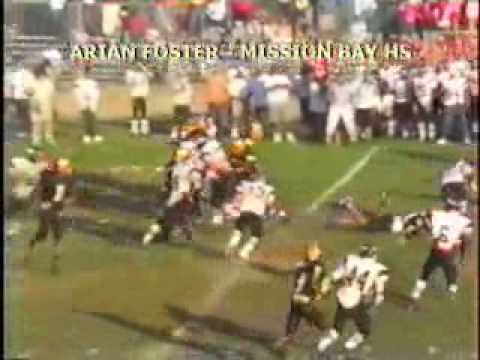 I even asked Arian together while he's here… shockingly, he did not respond.
Anyway, if you want to see him… head over to Mission Bay HS today.
-bp