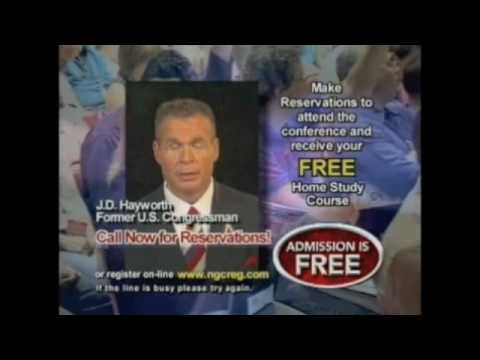 YouTube – JD Hayworth filmed this infomercial in November 2007 for a company called National Grants Conferences – widely regarded as a fraud and a scam.
"It is for real." – JD Hayworth. I already told you all about Hack's new co-host at The Mighty 1090. The video is long and awful, and I'm sorry if you just watched the whole thing. I did a little research on this gem, and as it turned out… the company received an "F" rating from the Better Business Bureau, filed for bankruptcy, and JD admitted that doing this infomercial was a mistake. Back in 2010, McCain used this to help squash JD in the Republican Primary. As the Tuscon Sentinel describes it:
J.D. Hayworth says he regrets making a 2007 infomercial for "free" government grant seminars that critics have described as shady.

Sen. John McCain, whom Hayworth is challenging in the Republican primary, blasted Hayworth and questioned his judgment.

National Grants Conferences, which has filed for bankrupcty, is accused of luring consumers to free seminars and then using high-pressure sales tactics to persuade them to pay for information that is free online or at a library.

The company earned an "F" rating from the Better Business Bureau; settled a 2006 consumer-fraud lawsuit brought by Vermont's attorney general; and filed for bankruptcy in 2008, reports the Arizona Republic.

"I should not have made the ad. It was a mistake," J.D. Hayworth said in a statement released late Thursday, reports the Associated Press. "I hope voters will look past a video presentation made three years ago and instead look at the issues confronting us in 2010."

USA Today reports that McCain's camp blasted Hayworth's attempt to distance himself from the ad, saying it was a "political calculation" and that appearing in the ad showed "a disturbing lack of judgment and principle, and his purely political response to a serious situation isn't fooling anyone." McCain then released an of his own, calling Hayworth a "pork barrel spender," a "lobbyist," and a "huckster."
A pork-barrel-spending-lobbyist-huckster, huh? I don't even know what that means, but he sounds like the perfect co-host for the biggest fraud in the history of San Diego radio. Hell, he might even challenge Mahan for that "biggest fraud" crown.
-bp
[lobbed by "Paul Mahan" in the comments section here]