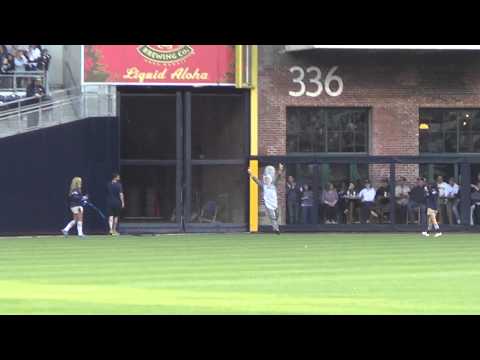 YouTube – "Squirrel Man," as dubbed by ESPN's SportsCenter, is an NCAA national champion and New York state record holder. The Fastest Squirrel in the World became the "San Diego Squirrel" and "Rally Squirrel" Saturday night (April 27, 2013) when he raced a fan in the stands across the outfield at Petco Park. After the squirrel race, the Padres scored six runs in the bottom of the fourth to take a 6-5 lead.
Watch that again and look at Andres Torres' reaction on the Giants. Too funny.
Turns out, if Buddy Black mentions this "rally squirrel" – it will get a lot of attention. I like the name "rally squirrel" and all, but I'd sure like it to be different because St. Louis has been there, done that.
I don't really have much to say about this dude in giant squirrel suit. Can we talk about the elephant in the room though? That thing on his back? That doesn't look like a tail to me. Sure, he runs like he's got a cheetah strapped to his back… but it looks like a giant dong.
-bp