As we all know by now, Johnny Manziel took batting practice and threw out the first pitch for the Padres vs. Nationals game last night. There's Johnny with our buddies Mark Sweeney and Mike Pomeranz. Here's a great video interview with him from Marty Caswell.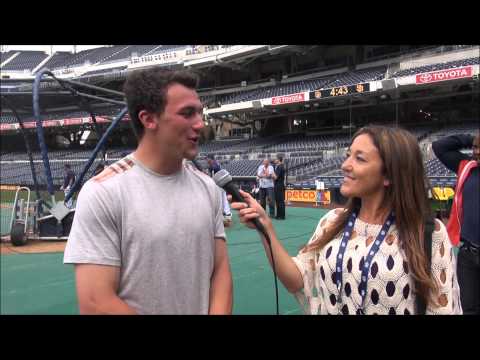 Head to the 5:15 mark of the video for batting practice. Johnny Baseball's first swing, he loses the bat and it flings into the net. "Lil slippery!" Haha.
He mentions Derek Jeter, Tiger Woods, and Muhammad Ali as athletes he's looked up to. Bryce Harper isn't on that list… since I think they graduated high school the same year.
Bryce Harper wasn't the only Nationals phenom Manziel met. Here he is with Strasburg before Stras went out and shut down the Padres, and threw into the 8th inning for the first time in his career. Padres hand out firsts like they're candy on Halloween.
Here's the GIF of Manziel's first pitch (see the full video here)…
Mark Kotsay's catch is the most impressive thing about Johnny's roll out pitch. As for the BP, from the video up top, looks like he had warning track power. Twitter confirmation says that Manziel hit the left field wall but he did not go yard, so Whitfield has a selective memory? Because he posted the following Vine and said, "Manziel homers @ Padre game!" Maybe he just saw something nobody else did? Doubt it. Either way, solid showing by Manziel.
Oh, he shot a 79 at Pebble Beach on his west coast adventure. What can't Johnny Football/Baseball/Golf do?
-bp
[GIF/Grabs via @corkgaines/BI, Vine via George Whitfield-Strasburg pic too, Video from Marty Caswell]