This video I'm about to post is an absolute must-watch for all Padres fans… all baseball fans. Nothing fascinates me more than the unwritten rules of baseball. A debate that has led to fist fights for a century. I just love it. What are the unwritten rules? Does everybody agree on them? The answer is most certainly no. Love that Marty Caswell from the Mighty 1090 went around asking the Padres clubhouse this question. I'll summarize what the Padres said was the most important unwritten rule, along with my small commentary.
You must watch the part with Dave Roberts, Luke Gregerson, and Chris Denorfia. So freaking fascinating. I'll break it down at the bottom of this post.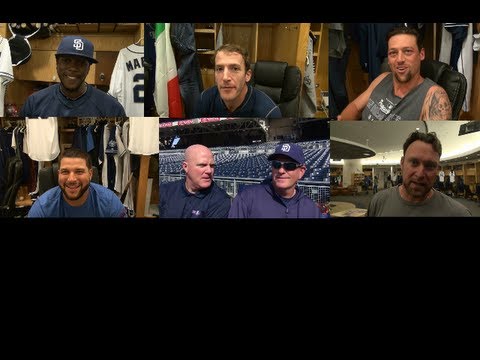 Yonder Alonso: "Don't show up your teammates." This one gets broken all the time.
Chase Headley: "Don't show up the other team… like, stealing when you're up by 6 or 7 late in the game, or over-swinging when you're up big." First time I'd ever heard a player talk about "over-swinging" late in a game when you have a big lead. Interesting.
Cam Maybin: "I am really drawing a blank here… Ok, never bunt in the 9th inning of a no-hitter." Maybin legitimately struggled to answer this question… made me laugh.
Casey Kelly: "Wear shower shoes in the shower." That's important? C'mon Casey. Do better.
The Norf: "Don't show anybody up on the field." A common one.
Luke Gregerson: "Pass, I have no clue… I just play the game." Weak.
Joe Thatcher: "Pass… it's unwritten… can't talk about it." Weak.
The Jerk: "Don't steal, don't bunt when you're up by a lot of runs." No brainer.
Huston Street: "Don't show up an umpire…. no sliding spikes up… gotta get a base hit to break up a no hitter (no bunts). What I'd like to see changed… don't get too excited when you do something you're supposed to do." Players show up umps ALL THE TIME. I do love the last part though. Do your job, you clowns, don't celebrate like a 1o year old.
Jason Marquis: "Anything that goes on in the clubhouse should stay in the clubhouse." The clubhouse is Vegas… got it.
Nick Hundley: "When you slide, keeping your spikes down." Hunds never did like Ty Cobb.
Will Venable: "Run the ball out. Run hard." I've seen Will jog.
Buddy Black: "Don't ever think you've got it all figured out." Humble thyself. Good answer, Bud.
John Baker: "You don't steal second base if you are up by more runs than there are outs left in the game. Don't watch a home run for too long. Don't show up the other team. If you don't do that, you really don't break any other rules." LOVE that Baker actually has a mathematical equation for when it's okay to steal second. Phenomenal.
Mark Kotsay: "Every single unwritten rule that you've heard…. has been broken" No crap. Thanks, Mark.
Okay…the 4:24 mark, this is where it really gets good. Dave Roberts sets up a scenario. He wants the perspectives from the batter and the pitcher. Love this. It's 8-0 in the eighth inning, Padres are winning. Norf is up to bat, the count is 3-0. Normally, you don't swing, right? Well, in Dave Roberts' scenario, Norf has a HR, a triple, and a double. He needs a single for the cycle… a feat that the Padres have never completely as an organization.
So, what does the hitter do? Swing away or take the pitch? Both Gregerson and Norf say swing away… because the cycle is on the line. HOWEVER, Gregerson points out that if you hit a gapper that would be an easy double, you better run it out, don't you dare stand on first base to lock up the cycle. You run out the double. If you don't, that's worse than swinging away, way worse. Norf agrees, and drops a gem, "You might have to wear one". I love that so much.
You go for the cycle, yes. But you do so knowing your ass is gonna get pelted next time you come to the plate. I freaking love this game. Norf also agreed you can't just stop at first, so that's not just coming from a pitchers perspective.
So fascinating. I watched that Dave Roberts breakdown 4 times. I just loved it. So, do you agree with the Padres on the unwritten rules? The debate continues…
-bp