That's the first tweet. That was over a year ago. That was the beginning. Since then, I've noticed that the number 1 in the Padres lineup card is never bold at home games. A normal person wouldn't notice or care. For some reason… I did. I mean, I didn't really… but it sorta became a 'thing'… whatever that means. It picked up some momentum on twitter, so I embraced it. I ran with it.
After tweeting about the lack of a bold number 1 for the better part of 8 months… I decided on a new tactic. I was fresh off my victory in Case of the Gum-Throwing Umpire, and I was feeling cocky. I decided to use charity as my new angle. I love giving to charity. I knew that Padres President & CEO, Tom Garfinkel, loves to give to charity too. I took a chance… and San Diego took notice. Here's an interview that I did with Fox Sports San Diego's Annie Heilbrunn. Tom Garfinkel is the star of this show…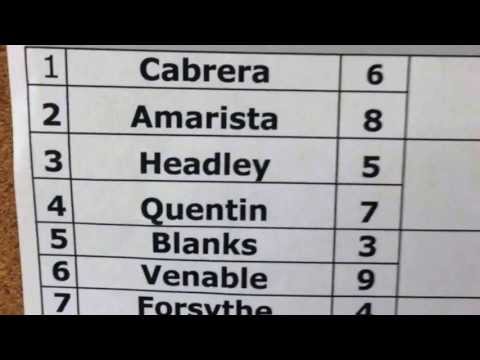 And there you have it… victory! Had a lot of fun with that…
Now that I've taken down gum-throwing umps and the Bold 1, I need to figure out what my next crusade is going to be. Any suggestions?
Because I know you're pessimistic and wondering, so did he give to Stand Up To Cancer?
There ya have it, lobsters. A man of my word. Oh, and I know what you're thinking… sweet close up shot of my ass in that video? Sweet gaze into the outfield while I lean on fence? Yeah, well, thanks. Friggin' Annie made me do all that… swore she wouldn't use any of the footage. Sure enough, there I am looking all wannabe-GQ… what a clown. Oh well, in the end, charity won… charity and little guy… figuratively speaking.
-bp