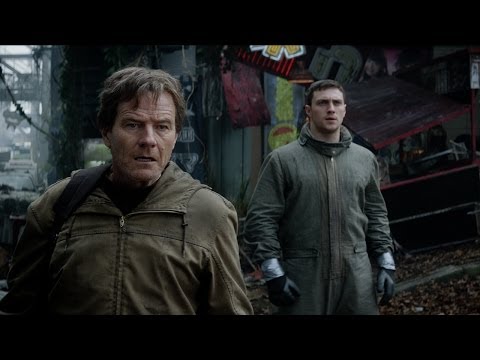 I actually like the trend in Hollywood… keep re-making bad sci-fi and superhero movies until they're good. This is one helluva Godzilla trailer. I've seen a bunch of people talk about it… and man, Bryan Cranston is no more… it's "Walter White Godzilla this, Walter White Godzilla that…" I never got into Breaking Bad. I know I'm in the minority here, but just wasn't my thing. As for Cranston, I bet he's thrilled to not be known as Malcolm in the Middle's dad anymore, but I'm guessing he wouldn't mind shedding the image of ONLY being known as the bald meth guy either.
A handful of examples on twitter:
Is Walter White fighting Godzilla? God help Godzilla.

— Wesley Chu (@wes_chu) February 25, 2014
can't wait to see walter white fightin godzilla with his blue product!!!! — Bill Ebbs (@BillEbbs) February 27, 2014
Bryan Cranston reprises role of Walter White for summer blockbuster Godzilla http://t.co/CAaEnajwpA — #waywire (@waywire) February 27, 2014
I am far too excited than is seemly about a gigantic dinosaur meeting Walter White in the new Godzilla film http://t.co/mGyqDZXmTW

— Tom Dyckhoff (@tomdyckhoff) February 26, 2014
yo Walter White vs Godzilla ft the asian guy from Inception this summer. I'm so stoked pic.twitter.com/GZRwtlNtsB

— Jake 王 Wolf (@JakeReflections) February 26, 2014
It goes on and on like that… MTV even took it upon themselves to mash it up.
Maybe this'll be the movie where he breaks the mold. Doubt it.
-bp