Not gonna lie… I had my sights set on going yard for batting practice. I know I can do it. I just know I can. Then I found out the pitching machine was set in the 60s, and I only got 10 pitches… then only 4 of those pitches were strikes. Tough to hit the longball in those conditions. Luckily, along with my buddy Dave, Jonny Dub from Gaslamp Ball was there too… and because JBox has a bum back, he filmed us. Here's the video. Jon goes first… then me, at the :44 second mark.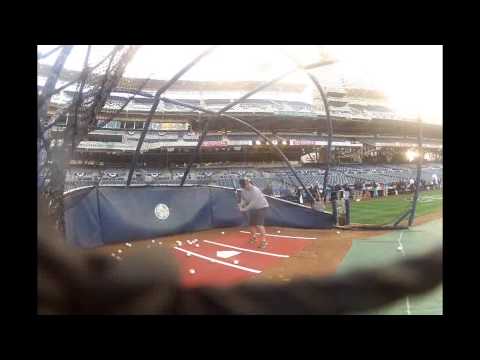 I took some okay cuts… definitely hit some hard line drives. You can see the last swing I take that the pitch is low and away but when you've only got 10 pitches, you hack at everything. Thought it was nice of Jonny Dub to say, in his write-up, "And I tell you what, Brady can really hit the crap out of a baseball." Thanks, man. Also loved that drop from The Natural to close out the clip.
Until next time, Petco. Man I hope there's a next time.
Oh, I also shagged balls and played catch* in the outfield. Good times.
-bp
*that's a Shipwrecked Double IPA from Mission Brewery, 9.25 ABV, nbd.