[editor's note: against my better judgment, I let Rick Romero write another blog… because this is an amazing story. – bp]
Since the Padres opened up the season against the Dodgers, I figured now would be the perfect time to tell my Fernando Valenzuela story. Yes, I run a baseball blog (www.rjsfro.com) and this story is baseball related, but I'd never allow a dirty Dodger story to appear at RJ's Fro. And since BP has no standards here at LobShots, I figured it was the perfect fit.
It is a very rare occurrence where I don't completely dislike a Dodger. In fact you can probably count those guys on one hand. As a Padre fan I am trained to hate everything blue (ahem… http://bringbackthebrown.com/). Back when I was a baby, my grandma, who is a Dodger fan, bought me a Dodgers onesie. I immediately pooped in it.
However one of those players on my very short list is the Mighty Fernando. A 6 time All-Star, a 1 time Cy Young award winner and the 1981 Rookie of the Year, Valenzuela spent the majority of his career with the Dodgers. Why does he make my short list? Spending 3 seasons in San Diego(1995-1997) definitely helped, but there is another reason. The somewhat pudgy appearance, odd windup and professional demeanor also helped. But that's still not the main reason.
Back during the Fernandomania days my great uncle, Lalo Guerrero, recorded a 2 song album about Valenzuela that was sold at Dodger Stadium. I had the record as a kid and listened to it quite a bit. Here are the songs:
¡Olé! Fernando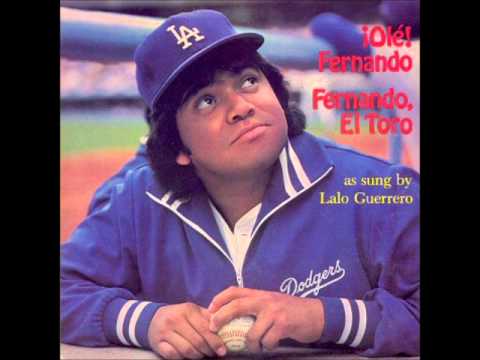 Fernando, El Toro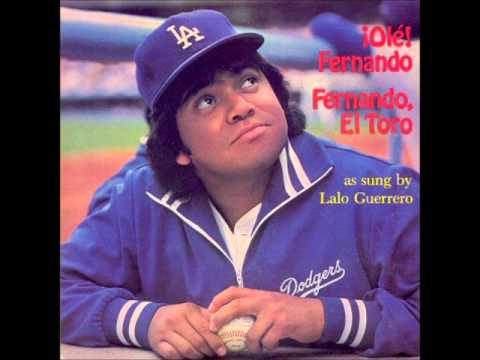 Both those songs were featured in the ESPN 30 for 30: Fernando Nation. Lalo was considered the Father of Chicano music and won numerous awards in his career, including being declared a National Folk Treasure by the Smithsonian, the National Medal of Arts and the National Heritage award. He made people laugh with his parody songs, entertained children with his Las Ardillitas (the Latin-American version of Alvin and the Chipmunks), wrote some amazing ballads and in his most impressive feat, somehow made a life long Padre fan actually like a Dodger.
-Rick