Fido, feel like going for a walk?   No?   You'd rather drive?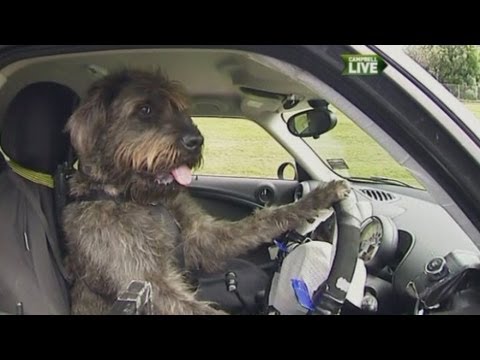 Here's the thing.  I love fresh ideas.   Here's an extremely fresh one… made particularly fresh by its utter ridiculousness.  New Zealand SPCA, to increase abandoned-dog awareness, is training rescued dogs to drive cars.  Not the toy ones from Walmart, but the one Matt Damon drives in The Bourne Identity.   Their holiday campaign attempts to disabuse the notion "you can't teach an old dog new tricks."   And to do it, they've retrofitted cars for canine ergonomics, trained several pooches [for 8 weeks] and tossed over the keys.   Logic?  Here it is, according to SPCA CEO… "Driving a car actively demonstrates …you can teach an old dog new tricks."  …And that, basically, it's not a second-class animal just because it was abandoned.   Kinda like, "Second class?  Look… IT'S DRIVING A F#%@ING CAR."  You thought it was tough getting Fido to roll-over.  Try teaching him to zipper-merge onto the highway during rush hour.  Or not abandon his moving vehicle when he notices a friggin cat.
The SPCA goes on to say their hope for the campaign is not only an immediate increase in adoptions, but also on a long term basis.  I think one of their hopes should be there isn't an immediate increase in wrecks and mayhem and death from dogs driving around town.
Man!  New Zealanders, right?  Gotta be a result of all that blood draining to their heads from being upside-down, on the bottom of the globe, too long.
-caster