That is Padres Clubhouse Attendant, James Bigler. I don't know James at all. But, I was introduced to him, kinda, in a twitter conversation with the folks over at Gaslamp Ball and Annie Heilbrunn, who covers the Chargers and the Padres for the UT-San Diego, NBC and Fox Sports. After watching an interview between Annie and Mr. Bigler, JBox over at GLB described watching it this way:
…one specific part of the segment caught my attention. The shy, mild mannered Clubhouse Attendant James Bigler explained to the camera how just about everybody, even non-players get fan mail. Then he was asked by Annie if he ever gets fan mail. His response: Embarrassed he laughs off the question, "I don't get any fan mail, no". It broke my heart. The way his voice catches and how he gets a far-away look in his eye. It kills me.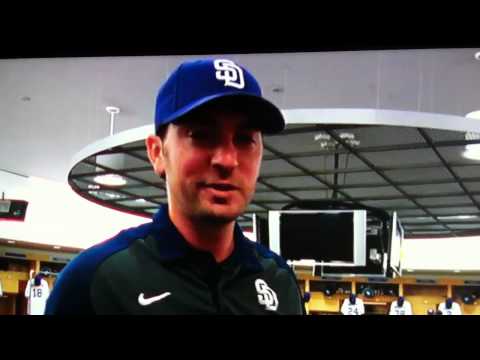 That's a clip of the video you'll have to crank up to hear. So, what does a clubhouse attendant do? The players call him a "clubbie". Clubbies do everything…whatever is needed whenever it's needed. Washing/folding laundry and towels, grabbing equipment, shining shoes helments, getting food for players/staff, sorting mail, getting charity items signed. You name it.
I had a job like this in high school, only it was at the County Public Health Department. My boss's name was Jim. The guys I worked with had business cards made for me. I kid you not, they were 100% official looking business cards, and they said "Brady Phelps – Jim's Bitch". Point being… this Padres clubbie, James Bigler, could really use some fan mail to lift his spirits…because he does a ton of bitch work with very little appreciation. Here's the letter I just sent to him, transcribed below:
James, I've always been a fan of the little guy. The guy that makes things happen, yet never gets the credit. You're that guy, James. The Padres always look amazing in uniform and that's because you make it so. To show my appreciation, here's a Padres pancake that I made for you this morning. Take it as a symbolic offer to come to the clubhouse and make flapjacks for you and the boys. You name the date…I'll make it happen. Thanks again for all you do. Go Pads! Sincerely, Brady Phelps, www.lobshots.com
Please help our cause and send him a letter as well.
San Diego Padres
Attn: James Bigler
PETCO Park
100 Park Blvd.
San Diego, CA 92101
I trust you lobsters will do the right thing and write James a letter… while you're at it, write your mother too.
-bp