I know, I know. I know the unwritten rules… I guess? I know you're taught from your tee-ball days… RUN OUT OF THE BOX, because that home run might not make it out of the park. I know that if you show up a pitcher and celebrate, you might just take one in the ribs. I know all that. I know that Puig is on the Dodgers and San Diego hates the Dodgers. Yup. Got it. Don't care. I love Puig.
Dude is electric. If you wouldn't want him on your team… you are a complete idiot well, that just seems silly to me. Home run bat flip out of the box? Love it. Makes me laugh. When you're that good, you can be wrong and then sprint like a cheetah around the bases for a stand-up, celebrating yet again before you even reach the bag, triple. I just love it.
Unlike my incoherent ramblings on the matter, Lee Jenkins had some very intelligent things to say about Puig's triple here. Great read. "Don't try it at home, or on the local sandlot, because you might end up wearing a fastball in the ribs … Is he pompous or passionate, hot dog or alpha dog?"
I didn't see any of this Dodgers v. Cardinals game live because I was busy watching the Chargers take down the Colts on MNF, but how 'bout that Dancing Bear that showed up at Dodgers stadium.
Same thing as Puig, baseball traditionalists are probably fuming over some clown in a giant Ted costume pretending to be an actual mascot jumping around on the Cardinals dugout. Me? Love it. Want more of it. I mean, look at this idiot. How can you not laugh?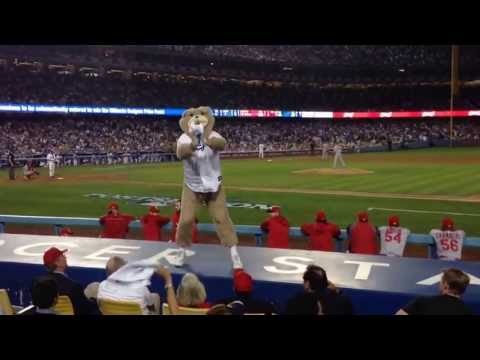 Even postseason baseball has a hell of a time competing with football. Sure, baseball is "America's pastime," but you're kidding yourself if you don't think that NFL is king in America. Every once in a while, baseball needs a kick in the pants. This postseason is providing it. Whichever side of the fence you're on… you're talking about it, and that's what baseball wants. That's what baseball needs.
More Puig. More Dancing Bear. More Adrian Gonzalez Mickey Mouse hands.
Yay for baseball! Yay for grown men having fun!
-bp
[gifs/grabs via @jose3030, @cjzero, @chadmoriyama]